21-Night Trip
on
Rotterdam
21-Day Southern Caribbean Wayfarer / Seafarer
Roundtrip from Fort Lauderdale, Florida, US

Per Person
+ $347.00 taxes/fees
November 30, 2022
through
December 21, 2022
Book by:
November 29, 2022 7:00 PM
Inside
Outside
Balcony
Suite

$2,569.00




Cat: L




$122.33 per night

$3,569.00




Cat: F




$169.95 per night

$3,949.00




Cat: VH




$188.05 per night

$5,949.00




Cat: B




$283.29 per night

More Pricing Information
Itinerary Map
Loading Itinerary Content...
Named Rotterdam, a powerful and symbolic moniker honoring cruise ships of our past, this Holland America new ship (and new flagship) is the third in our Pinnacle-class fleet. Rotterdam hits all the right notes: exquisite dining, innovative entertainment, superbly appointed staterooms and suites, the finest service and craftsmanship that reflects nearly 150 years of seafaring expertise. Music is front and center on this new cruise ship and the result is a ship that moves—not only through water, through the hearts of guests. Rotterdam will be the soundtrack of discovery from that very first day to the end of each perfect night.
Year Entered Service
2021
Crew-to-Passenger Ratio
1 to 2.12

| | | |
| --- | --- | --- |
| AS | Vista Suite | $6,421.00 USD |
| A | Vista Suite | $6,283.00 USD |
| B | Vista Suite | $5,949.00 USD |
| BC | Vista Suite | $5,949.00 USD |
| VQ | Spa Verandah | $4,859.00 USD |
| V | Verandah | $4,679.00 USD |
| VA | Verandah | $4,589.00 USD |
| VB | Verandah | $4,499.00 USD |
| VC | Verandah | $4,409.00 USD |
| VD | Verandah | $4,319.00 USD |
| VE | Verandah | $4,229.00 USD |
| VF | Verandah | $4,139.00 USD |
| VH | Obstructed Verandah | $3,949.00 USD |
| FA | Family Ocean View | $3,819.00 USD |
| CQ | Spa Ocean View | $3,809.00 USD |
| FB | Family Ocean View | $3,759.00 USD |
| C | Ocean View | $3,749.00 USD |
| D | Ocean View | $3,689.00 USD |
| E | Ocean View | $3,629.00 USD |
| F | Ocean View | $3,569.00 USD |
| I | Inside | $2,659.00 USD |
| J | Inside | $2,629.00 USD |
| K | Inside | $2,599.00 USD |
| L | Inside | $2,569.00 USD |
| N | Inside | $2,569.00 USD |
| | |
| --- | --- |
| | Ambulatory accessible |
| | Connecting rooms |
| | Fully accessible |
| | Partially obstructed view |
| | Quad (2 lower beds, 1 sofa bed, 1 upper) |
| | Shower only |
| | Triple (2 lower beds, 1 sofa bed) |
| | Triple (2 lower beds, 1 sofa bed) |
| | Double (2 lower beds convertible to 1 king-size bed, no Murphy bed) |
| | Floor-to-ceiling windows |
| | Uncovered Verandah |
| | Solid steel verandah railings |
| | Part solid steel, part clear-view Plexiglas® verandah railings |
Deck plans are not yet available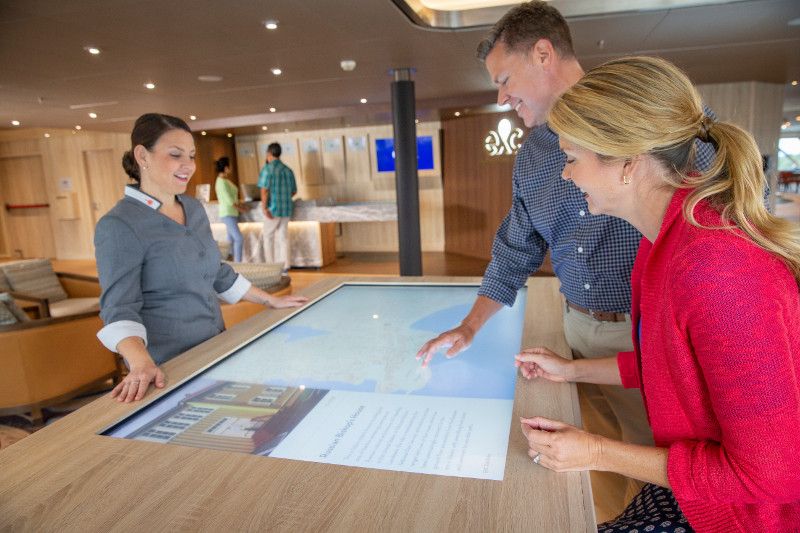 BBC Earth Experiences: We have partnered with BBC Earth to bring you unforgettable new ways to experience the world's natural wonders. Through the innovative and breathtaking programming, guests will be taken closer to the ocean and the natural world through a groundbreaking concert, films, game shows, trivia, children's activities, and feature cruises.

Explorations Central™ (EXC™): Discover the connections that unite us across borders and cultures. Explorations Central™ (EXC™) is immersive onboard programing designed to make your journey more engaging, vivid and meaningful. From EXC Talks,™ to EXC Encounters™ to a chat with your EXC Guide™, you'll feel the spirit of a region come to life.

O, The Oprah Magazine: Holland America Line and O, The Oprah Magazine have partnered on an exciting initiative that will unite the soul-stirring power of travel with O's deep commitment to wellness, connection and personal growth through a series of cruises and activities that will bring the magazine to life for all on board.

Digital Workshop powered by Windows®: Guests on Holland America Line cruises can learn how to display and share their vacation memories through the Digital Workshop powered by Windows®. This enrichment program, which is now available on all ships, offers free, informative sessions that are led by a Microsoft-trained techspert.

Onboard Shopping: Enjoy a wide variety of duty-free shopping in the Signature Shops such as Merabella, a luxury jewelry boutique featuring high-end watches and pieces from noted designers.

Greenhouse Spa and Salon; Of all the fascinating places you can visit on a Holland America cruise ship, none rejuvenates and relaxes like the Greenhouse Spa & Salon, featuring heavenly beauty and wellness rituals. Choose the blissful pampering of a facial therapy or let the trained fingers of a massage therapist soothe your muscles while working fragrant oils into your skin. Enjoy therapeutic water treatments as you steam in a thermal suite or bathe in herbs, all the while cruising to exotic destinations and enjoying the indulgences that are a signature feature of luxurious Holland America Line cruises. Relaxing treatment rooms also offer breathtaking views where guests can enjoy exotic skin, body and hair treatments ranging from hot stone massages and pedicures to hair styling and facials.

Fitness Onboard: Stop by the professionally staffed Fitness Center equipped with the latest cardio and weight machines. Try one of our classes on indoor cycling, Pilates and more or work out at your own pace. You can also head out for fresh air and exercise on deck, where you'll find basketball and volleyball courts, and two refreshing pools (available on select ships). Some classes may have a nominal fee.

Explorations Café: The Explorations Café, powered by The New York Times offers a comfortable, coffee house environment where you can browse through one of the most extensive libraries at sea, view a wide array of audio and video programming, or simply read the morning paper. Guests can also enjoy fresh pastries and their favorite espresso drink.

Gallery Walk: We take great pride in our onboard art collections. Now, fine art goes high tech. Take a self-guided walking tour highlighting your ship's eclectic collection, valued at tens of millions of dollars.

Photo Gallery: It all begins with a great photo taken at embarkation -- the first of many photo opportunities. Your onboard photographers, called "Image Creators" will be with you throughout the cruise, ready to capture that special moment at the Bon Voyage Party, Formal Night, Scenic Cruising and more.

Holland America Line Navigator: Personalize your cruise experience once you're on the ship with our free mobile-friendly tool. Plan your daily activities, browse and purchase shore excursions, view restaurant menus, make dining reservations, check your account balance and more.

Club HAL©
On Holland America ships, we provide a wide variety of exciting youth and teen friendly activities and facilities for guests ages 3 to 17. With supervised fun for our younger guests, the entire family can have the cruise vacation of their dreams.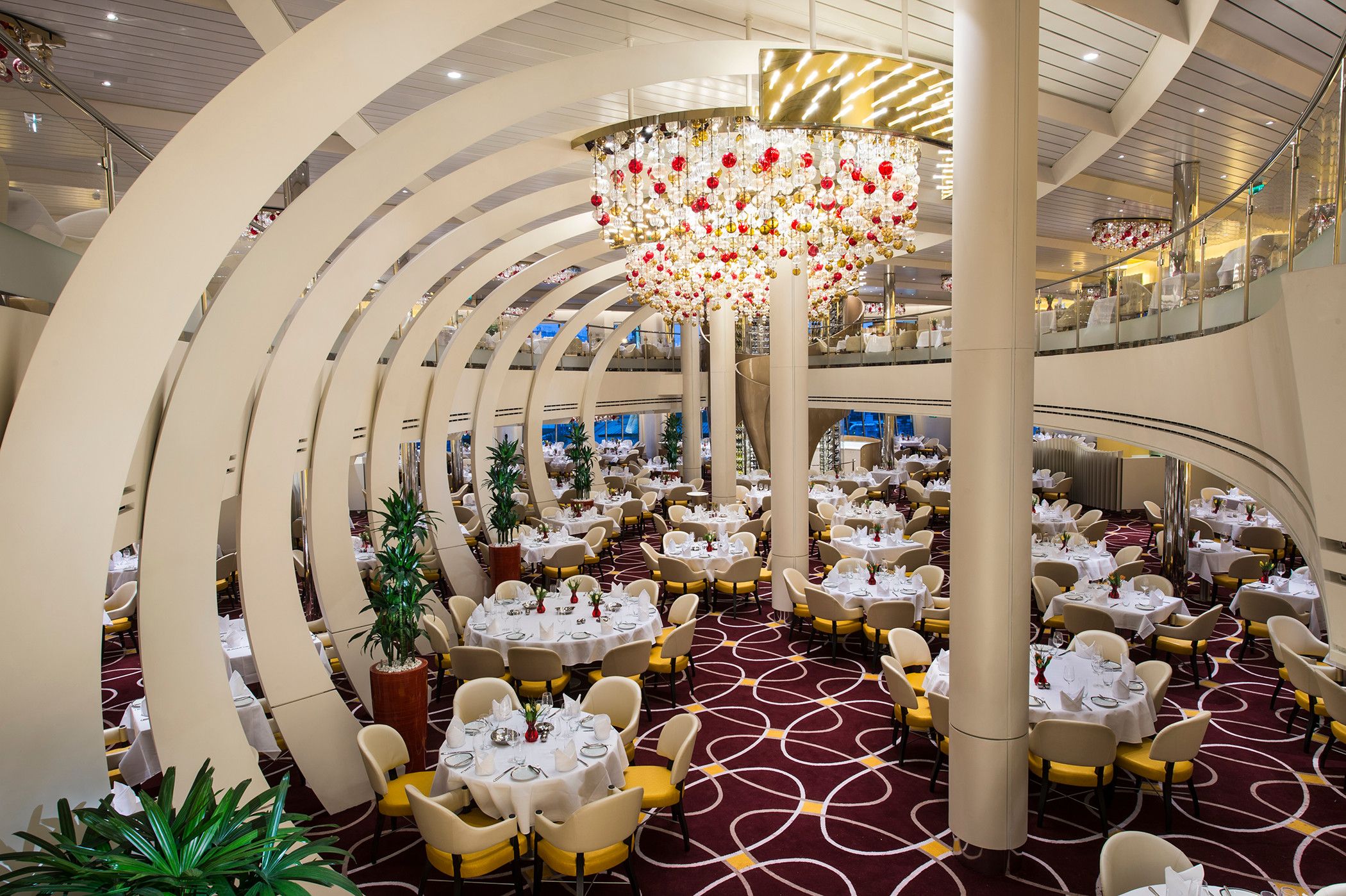 Exquisite Food & Dining Options Onboard
With a wide range of food & dining options, we invite you to dine "As You Wish®" To savor Italian cuisine one night and a perfectly grilled porterhouse steak the next. To take your place in The Dining Room at a specific seating time or be spontaneous, following your desires.
On board a Holland America cruise ship, there are restaurants to suit every mood, along with the flexibility to choose the dining style you prefer. For guests 21 years of age or older, consider adding our convenient Signature Beverage Package to pay one price per day for beverages.

The Dining Room: For an elegant breakfast, leisurely lunch or unforgettable multi-course dinner, The Dining Room is your destination. Behind the scenes, our Culinary Council,® an elite team of seven world-renowned chefs, and our talented onboard executive chefs have worked to bring each dish to perfection. For dinner, choose from classics such as Boneless Lamb Loin en Croute, Rosemary Roasted Chicken, as well as regionally inspired cuisine and artfully prepared vegetarian dishes. Enrich your journey with an extensive selection of wines, carefully selected by our Wine Curator, world-renowned wine critic James Suckling.

The Pinnacle Grill: Reserve a table in the intimate Pinnacle Grill for lunch or dinner and celebrate the day's adventures with cuisine inspired by the bounty of America's Pacific Northwest. In this elegantly appointed room, service is warm and engaging, and a meal is an event. The menu focuses on premium ingredients expertly prepared—from wild-caught king salmon from Alaska to sustainably raised beef from Washington State's Double R Ranch. And, every evening in this venue offers a chance for you to experience the signature recipes of Culinary Council Chef David Burke. Complementing your perfectly prepared meals are boutique wines from the Pacific Northwest and other celebrated vineyards from around the world.

Canaletto Restaurant: In Italy, there's nothing more important than coming together to celebrate the joy of great food. This is the inspiration for our onboard Italian restaurant, Canaletto. Enjoy amazing Italian classics like braised chicken cacciatore al forno, branzino ai ferri or garlic shrimp ravioli. And for dessert: tiramisù, cannoli alla Siciliana, gelato, and more. Buon appetito!

Tamarind: Praised by Condé Nast Traveler for cuisine "that rivals the top restaurants on land," Tamarind is the perfect place to explore the culinary traditions of Southeast Asia, China and Japan. The menu, which honors the elements of water, wood, fire and earth, features such exotic fare as wok-seared lobster, barramundi (Asian sea bass) in banana leaf and sushi, accompanied by chilled or heated sake. And, try our specialty sushi created in collaboration with Culinary Council member and Master Sushi Chef, Andy Matsuda.

Rudi's Sel De Mer: Named for Master Chef Rudi Sodamin, Rudi's Sel de Mer is an intimate brasserie featuring classic French dishes reimagined with contemporary flair. Menu selections include whole Dover sole meunière with shaved pink Himalayan sea salt, oysters on the half shell, fruits de mer, and salt-crust baked branzino, as well as favorites such as steak frites, duck cassoulet and coq au vin. Conclude your dinner with a classic dessert and fine French cheeses. Rudi's Sel de Mer restaurant is available on Koningsdam and Nieuw Statendam, but on other ships, the Rudi's Sel de Mer menu is available on select evenings in Pinnacle Grill.

Lido Market: Explore a world of intriguing culinary possibilities in the Lido Market. Steps from the Lido pool, this modern marketplace includes a curated selection of delicious options that you can grab on the go or have made to order: Breadboard, with freshly baked breads and pastries; Wild Harvest, offering a bountiful selection of hearty salads; Homestead, serving up comfort classics; Distant Lands, featuring global; Sweet Spot, for ice cream creations and desserts; Roasting Pan, hand-carved meats, fish and other hearty entrees; Perk, freshly brewed beverages and chilled juices; Quench, premium coffee, beer, wine, and soda; Rise, savory quiches, croissants and sandwiches, and more.

Dive-In at the Terrace Grill: Dive-In offers a variety of casual culinary classics, using the highest quality ingredients. Enjoy a burger, grilled to perfection and served on a toasted brioche with our own trade-marked secret sauce. Savor a succulent Nathan's Famous gourmet hot dog with golden French fries. Or choose a grilled chicken breast sandwich or juicy portabella mushroom stack. Dive-In is the perfect spot to dine poolside on the best burgers at sea.

Grand Dutch Café: Looking for a refreshing pick-me-up on an adventure-filled day? The Grand Dutch Cafe is for you. Located just off the atrium area, it's the perfect spot to connect with friends over a cold beer, coffee or other Dutch specialty beverages, such as Genever and Advoccaat, and a snack. Choose from among 16 Belgian and Dutch beers (four on tap) and a variety of spirits or enjoy your favorite coffee beverage with complimentary Dutch snacks. For heartier appetites, there are made-to-order Dutch specialties from open-faced herring sandwiches to apple and bacon pancakes. Just place your order at the counter; anything we prepare will be brought to your table.

Gelato: At "G" Gelato, you can indulge your sweet tooth with a classic European gelato (ice cream), made fresh on board each day by chefs trained at the Carpigiani Gelato University. Choose from among 12 delightful flavors, two of which are rotated daily. Smooth, creamy and refreshing, this tasty treat is served in a variety of ways, including gelato popsicles and the flavors of G, composed shots with layers of caramel, nuts and gelato. Love pistachio? Select ingredients like Sicilian pistachios make our pistachio gelato out of this world!

Tea Time: If a refreshing and elegant afternoon tea is just your cup of tea, you'll love cruising with Holland America Line. We take tea seriously. Not only do we feature tea each afternoon on our ships (with High Tea on select days), we offer tours that include afternoon tea in fascinating destinations the world over, with settings ranging from opulent hotels to centuries-old Chinese teahouses. Whether you're a tea connoisseur or a novice, you're sure to enjoy this most civilized and relaxing tradition.

New York Pizza: At New York Pizza, choose from a variety of scrumptious, 9-inch, thin-crust pies. Named for New York's famed five boroughs, our signature pizzas are made to order and topped with only the finest ingredients. Culinary Council member Ethan Stowell has also contributed signature pizza recipes to the menu. Enjoy your pizza by day while overlooking the Lido pool, and into the night. This venue is New York Deli & Pizza on Koningsdam and Nieuw Statendam.

24-Hour In-Room Dining: Sleep in and have breakfast delivered. Enjoy an early dinner on your verandah before an evening excursion. Order a salad, sandwich or entrée any time. In-Room Dining is only a phone call away. All selections are included in your cruise fare unless otherwise noted on the in-room menu.
On Holland America Line cruises, your every wish is our pleasure to fulfill
Always at the heart of the Holland America cruise experience is our warm and award-winning style of service that is never in the way and never out of reach. We sail with nearly one crew member for every two guests, providing the intuitive, gracious service that has long defined classic cruising. Our extensive onboard services, from special dining requests to full service laundry and dry cleaning services, are designed with your comfort and convenience in mind.
Our specially trained crew takes pride in anticipating and fulfilling your every wish. From our waiters and bartenders to our chefs and wine experts, our spa technicians and fitness instructors to our officers and housekeeping staff, everyone is dedicated to providing you with the gracious and personalized service that will make your cruise vacation memorable.
On board the ships of Holland America Line you'll discover a cruise experience that is modern, fresh and appealing — in an ambiance that is timeless and refined.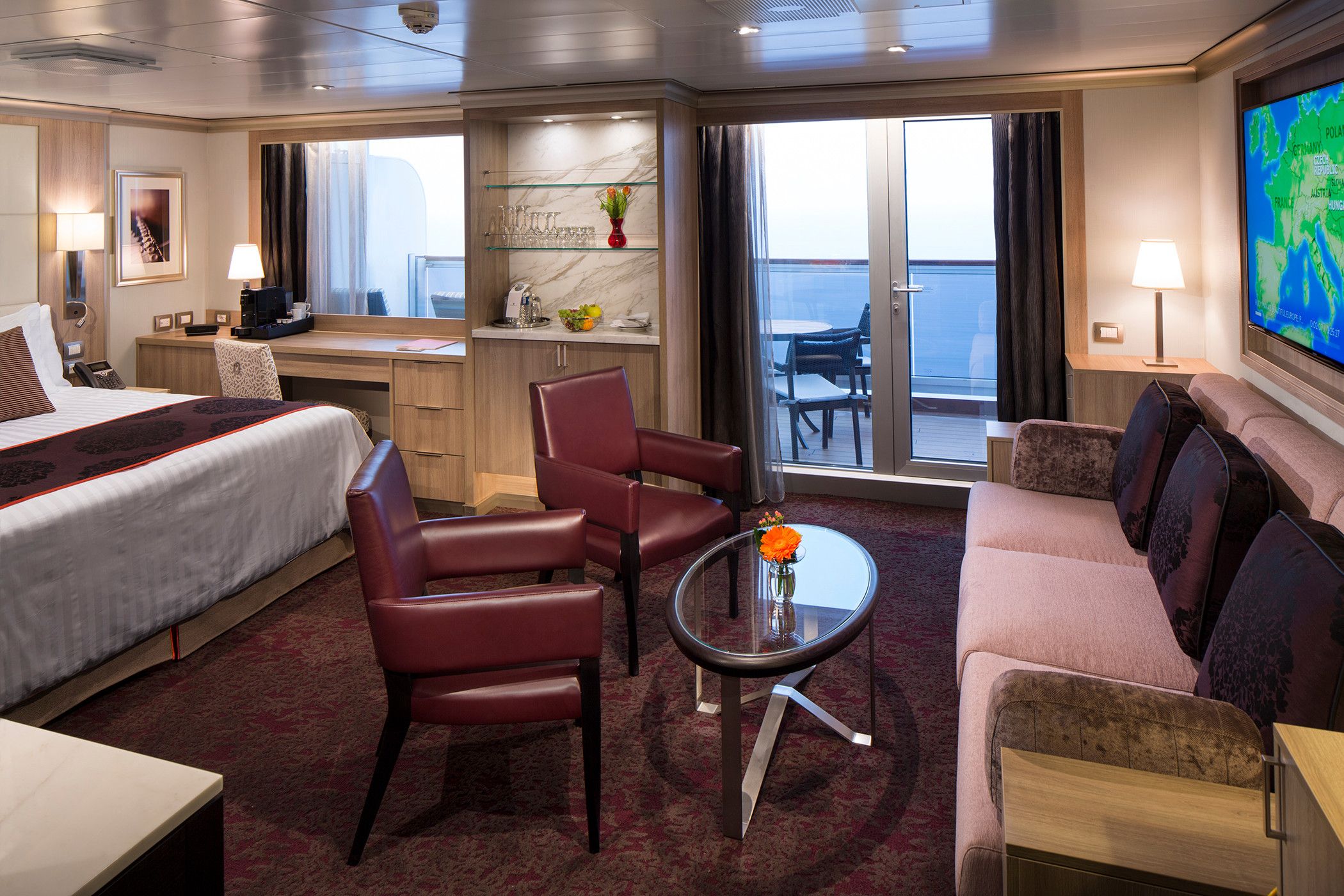 Refined amenities and our signature Mariner's Dream™ bed grace each elegant stateroom offered by Holland America Line. Most of our spacious cruise ship rooms are ocean-facing; many have teak-lined verandahs for dining alfresco or sunbathing in private.
Complimentary 24-hour In-Room Dining
Daily Housekeeping
Nightly turndown service
Generous Storage
Safes for your valuables
Deluxe bathrobes
Elemis Aromapure bath amenities
Complimentary fresh fruit
Complimentary shoeshine service
Complimentary ice service
About Holland America Line

Welcome to Holland America Line, recognized for nearly 150 years as a leader in premium cruising. Today, our fleet of 14 ships visit more than 470 ports of call in 98 countries connecting with all seven continents. Holland America Line guests are endlessly curious, looking to go beyond typical tourist experiences. They're not looking for things like waterslides, go-karts, roller coasters or climbing walls when they cruise. They are explorers who appreciate the one-of-a-kind experiences curated by the experts who manage our exclusive Explorations CentralTM destination immersion programming, with local cultural insights, insider travel tips, and unique shore excursions for an authentic experience in each destination. They are foodies who want unrivaled experiences in food, wine and spirits, and enjoy the award-winning dining influenced by our Culinary Council® of seven world-renowned celebrity chefs. They're music lovers who appreciate the best in live music – exclusively on board at Lincoln Center Stage, B.B. King's Blues Club, Billboard Onboard, Rolling Stone Rock Room, Postmodern Jukebox, and more.* And, they want to pursue these passions on perfectly sized, refreshingly uncrowded ships that combine classic design with contemporary elegance – all with service that attends to every detail, every day. Come, savor the journey.
*Venues vary by ship.